Hey there! I wrote this post for you all yesterday, with the intention of posting it and it definitely did not happen. So here ya go! Happy Friday!
Thursday, July 25, 2014
So I totally missed the #wowlinkup yesterday... :( I know! With the ceremony today for our Aunt, and my sugar gliders being "sick" I believe I have had a lot on my mind this week.
This is them barking in the morning- they love attention and let me know when they want it :)
And actually I took this video this week of them, then some pictures on Tuesday when I was giving them some "glider love" after work :) So if you have no idea what I am talking about when I say sugar gliders, these are our little fur babies!
Their names are Gizmo and Stitch. Gizmo is my baby that is going to the vet today because she has a lump under her jaw :( Getting her in ASAP to get checked out!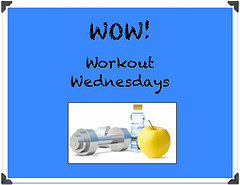 But nevertheless, I want to make this a habit so I am posting the workout I shared on my Facebook page with you all for Tuesday night's Shoulder Sesh!
So here ya go! Quick and...not so easy ;)
-Warmup: cardio of choice 10-15 mins (I did 25 this morning so I'm doing 10 light)
barbell shoulder press 1 lighter set, 3x12

cable lateral raises from across body SS (superset) cable rope face pulls (video) 3x10 for both exercises

dumbbell front raises 3 sets. Set 1- do 12 reps. Then sets 2 and 3, I want you to drop on each set (go down in weight) and go until it burns like crap! So to Failure! Then drop again and go to failure/until it burns.

dumbbell clean and press from video (half snatch lol!) 3x12 and make sure to get the full squats**
**So this last one, #4-- is something I kinda "made up"/changed a few lifts I saw, one day based on a few things I found when looking for workout ideas...It's a cross between a snatch and this hang clean with push press with dumbbells if you want my opinion :)
I like to do this a little differently though by starting with the dumbbell in a overhand grip position, between the legs (squat stance like he does) and really emphasizing my shoulder to lift the weight like a snatch.
Then,
At least 5 good minutes of stretching!!
Top left/Bottom Left: Angled Lateral Shoulder Raises (different twist for ya!)
Top Right: Cable Face Pulls
Bottom Right: Dumbbell Clean/Squat/Press Snatch ;)
AND if you really want a challenge, someone at the gym I go to challenged over a 5 min plank Tuesday, so I had to give it a whirl. Yep!!!--the Max Fitness trainer plank challenge!
I lasted almost 3 minutes! How long can you plank? Try it out and keep the challenge going!!! Comment below with you time!! If you try it take pics and videos and I will post them on my Facebook page!!!