Let me tell you, first of all-- two posts in one day!!! I know! It's pretty great right??? But there are some absolutely amazing ladies out there doing amazing things and I love it when I find them!!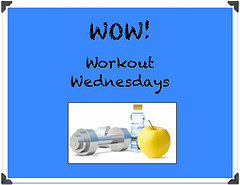 For instance I stumbled upon the #wowlinkup today for Workout Wednesdays and it seemed like the perfect time to share this leg routine that I wrote for last week's leg day! Before the week had some unexpected events...but I digress :) All is good now! So let's get on with it!
These ladies for this link-up, let me tell you, they are here to party and inspire
while lifting each other up and I am ALL IN! So you definitely need to click-click on that link and go check them out! Or head over to my Facebook page, browse my likes and BAM! There too! Or you prefer Instagram??? Yep! They are there too! Talk about WOW connecting through social media the way I like it!!!
(Yes I know maybe I should have put a "cheesy" warning label on this post ;) You still love me right? OF COURSE YOU DO!!!!)
So yeah, that was easy now wasn't it?! Now for a leg day that had my boot-ay hurting for days!!
Leg day 07/5/14
We want everything HEAVY here!!! No light weights and NO skipping sets or reps got it? Good!!
Here's your warm-up:
-15 min treadmill walking at incline (you set degree- I did 5-7)
-3x10-12 seated leg extensions
- 3x10 heavy hack squat SS 3x15 calf raise on hack
- 3x12 smith squats 1 1/4s (down-up-down=1 rep)
- 3x10 abduction sitting-butt off chair
- 3x12 glute kickback machine
Cardio Finisher:
- 25 min brisk incline walking cardio
(get that incline all the way up to 10!!!)
*Tip: for the abductors -- really squeeze your glutes through this (may feel a little funny lol) to get the full benefit! Glute activation is crucial during leg day in order to tap into those muscles and really build them :) So make sure to squeeze!!!
And just for kicks! Here are a few video tutorials!
Selectorized Abductions (first part sitting off chair)
Smith Squats 1 1/4s (Burn!!!)
Try it out and let me know what you think!!!