Man I could scream that today! I don't know if its because today is legit an awesome day, or because we are half-way through the work-week (you know I hate wishing away weeks because of work), or what but MAN! I'm HAPPY! :D Maybe I can spread this contagious feeling to you too!
Course as much as the old me wanted to sleep in again this morning, good thing I smacked her! Haha! I laid there and gave myself two options:
1. I could attempt 'sleep' for the remaining 35 or so minutes; most likely fall asleep and be late AGAIN (yes my typical morning sadly...) OR
2. I could get up and do something productive with my time, AKA chase dreams-- in the form of working on my morning person and cardio skills.
I gave #2 a big THUMBS UP and said let's do it...and you know what? The vacuuming that commenced promptly after I got out of the shower (so around 6:30ish- yes this happens every morning if not earlier #suckyneighbors), didn't annoy me as much! Who'da thought? ;) I stopped myself right when it started and said "alright, how do I feel? Is it worth ruining my morning over getting irritated at them? NOPE!" And moved on. Just like that...Crazy right? I think I am more amazed than you guys haha! I really hope this is me turning over a new leaf. I think so, so we are going to take it and run with it; kapeesh? :)
Anyways, so that's how my morning went! Do you ever have amazing days like that? Don't you love starting your morning fresh and stress free?? I know I do!!! And I was even early to my carpool- so double win!
And it is Wednesday today, so you know what that means! We have two awesome linkups today! And since I love them both dearly, we are going to combine them and have a whole lot of linking fun!
AND my newest favorite, Workout Wednesday (WOW) Link Up!
This one is brought to you by a few awesome ladies,
Diatta Harris at Femme Fitale Fit Club

and

Sheila Simmons at The Frugal Exerciser

.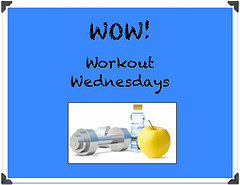 So you guys head over to both of these blogs hops, check out the awesome posts, learn some stuff, have some fun and link-up until your hearts are content!
Since I have both on board for today, I am going to do a simple but very useful topic that I find myself sharing or getting asked all the time.
What are my favorite or must-have fitness apps?
#1 Fitness Buddy
Fitness Buddy is in a nutshell an amazing workout journal. I use this app every single day to plan out and track my workouts. You can track your workouts from the app itself and even create your own workouts and save them in the app. Did I mention it will even count down your rest in between sets too?! Talk about awesome! I don't even have to keep up with the timer because an alarm goes off when it's time to work! You put in the weight and reps you did, press a button, and BAM! It starts counting down.
This app has a huge library of exercises and a good list of built-in workouts to choose from. You can even create your own exercises and parameters to track! The app itself will chart your progress on a particular exercise too! It even has the capabilities to export the app data into a format that you can load into something like Excel, and create charts of your progress!
There is nothing this app cannot do besides doing the workout for you ;) and PLUS today (08/13/14) the Itunes Store has this on sale for $1.99. I'm telling you the BEST $2 I ever spent on an app! I did also have the free version and liked it as well, but the paid version of course has more.
And as long as you back-up your phone's app data, I can assure you that an Iphone will transfer your data to a new phone if/when you have to do this. This was a question I had and even messaged the Fitness Buddy Facebook page about.
Here is a look at some of the awesome features of the (paid version) app!
You will probably see me posting pictures of workouts with this app pretty often on my Insta page and Facebook!
#2 Gym Boss 2 Interval Timer
For all of you HIIT'ers (haha) out there, I have an app for you! I found this one a while ago via Jamie Eason's Live Fit Program and absolutely love it! I am all for anything to make interval training easier ;)
This one pretty much takes the guess work out of having to watch the clock and set your timers while performing interval training. Or Tabata training. Or really any training where you would need a set start-stop time for rest/work periods. You are
able to set your own intervals too, change the colors when the timer goes off (so you can see it far away), and other cool stuff all in one simple and easy to use app, right at your fingertips.
Oh, and did I mention this one is FREE?!!!
#3 My Fitness Pal
So how many of you out there
are trying to monitor what you take in in some way shape form or fashion? Maybe you
follow IIFYM, or clean eating? Or maybe you are just trying to lose weight right now...
Well friends, I would say this one wins for me by a long shot. I tried out a few apps, including Lose It, when I started my journey. This one was the one app I quickly came back to. I can enter my own foods, look up foods easily, create recipes to log, and pretty much anything related to food tracking that your heart desires! I personally like to look up the label and enter/check accordingly before tracking my foods, but to each his/her own.
Do be mindful that the nutritional information may not always be accurate; but other than that, this is a great one!
And if you are familiar with IIFYM, which is another way to put tracking your macronutrients to meet daily food intake goals (yes even if you are a "clean eater"), you can even edit and track your macros here too! Yes, I did say you can edit the macro goals breakdown. This is a common misconception that many people aren't aware of...Yes, Myfitnesspal does set your goals;

but 1200 calories is not what you want to be aiming for

. We can touch on this more later. :) In the meantime, you can manually edit your daily nutritional goals (and macros) in Myfitnesspal by going to the Goals tab > clicking Change goals > clicking Custom > then Continue. Then if you want to specify it by gram, c
heck out this awesome post by Erin at
Live Life Active
where she explains how to edit the macro goals with this cool web extension!
I am not paid nor endorsed by the Apple Itunes Store or these app companies to write these reviews.
Hope you guys enjoy these to get you started! What other apps do you love? Comment below, let's hear 'em!
Have a great rest of your Hump Day!!