Hey Y'all!!! Man have I had a whirlwind of a BuSy day today! Phew!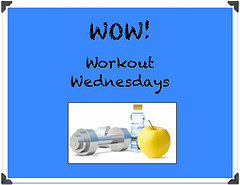 I wanted to make sure I got a post up today for the #wowlinkup because it's awesome and because you guys NEED this workout in your life!
I'm telling ya! My abs are never sore and HOLY MOLY! Were they sore after this workout for days. Make sure you go heavy on everything and push hard!
No ladies, your arms won't look like this all the time and yes YOU CAN lift heavy without getting bulky! #smashthemyth and GO LIFT! (thank me later!--when those tank tops expose your sexy arms! ;) )
Here's the workout:
Treadmill warmup: incline walking 3.3- up to 10 (5-7-10)
1) Selectorized tricep ext. SS select. Bicep Curls SS 30s plank --3x12
2) Stability ball DB chest press SS Tricep Dip-Kick --3x12
3) Rope (attachment) cable Hammer Curl SS Rope Cable Tricep Ext. SS
HEAVY Select. Ab Crunch (15 reps) -- 3x10
4) Hanging Knee Raises x failure
5) Plate decline crunch 3x15 (I used 25lbs) --
**You will keep the plate over your head!**
Arms go from parallel to straight up as
you lift your body with your core.
Tricep Dip with Kick Guide :)
You know those guns weren't built overnight ;)