Wahoo!!!! Can you tell today is Friday? ;)
There we go! That's about how I feel every Friday for that matter! YES! Can't wait until it's time to go lift!
And then Monday morning I'm all like...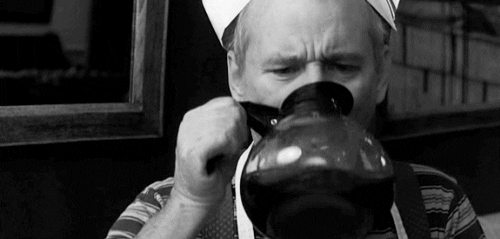 At least temporarily... :)
So last week I mentioned that I wanted to share a few awesome leg days with ya! Forgive me for the lateness with this one, I have added some awesome additions that I think you will love even if they took more time!
I have had some really great and killer workouts recently and have been pushing pretty dang hard. I love sharing them with you guys whenever they are that good! I could literally share my whole workout week from last week. I may just do that...
Anyways, on to the workouts!
Ready? Set? Go lift!
And I know pointers always help when I get in the gym, especially when I first started out! So I want to share a few things with you!
On the Barbell box squat, focus on driving with heels from seated position - you don't have to go heavy, but make sure your form is on point!
Here are some form tips!
**Be sure to have your feet shoulder width apart and toes pointed slightly outward, and maintain a straight back throughout the whole movement. I like to squeeze my shoulder blades together, keeping my chest out to stabilize throughout.
Continue down until the angle between the upper leg and the calves becomes slightly less than 90-
degrees, and m
ake sure your knees are not over your toes at the bottom
. Inhale as you perform this portion of the movement. Begin to exhale and drive with the heels of your feet, keeping your back straight, return to the start position.**
Here is a tutorial of the cable leg extensions!
And on the cable set, you may cry; I wanted to haha. #yourewelcome
Here is an abductor tutorial:
Remember: The sets listed above are different than these videos!
Sorry for all the detail but your glutes will thank me later!
And let me just say-- not for the faint at heart but it'll give you one heck of a challenge! I know I ALWAYS enjoy my leg day challenges!
#missionbuildabooty is on! I want those tight gluties even without bikini season!!!
The next workout I have for you guys came from last week and boy were my legs and glutes sore from that one! I added in a few new things that I don't do too often, and one that I haven't done before.
Burned the gluties and gave the legs a good working! Man i love hard work! And upped my weight with my box squats, still with great form, which makes me a HAPPY LADY! Those goals wont keep me away!
For those that are curious, my squats are actually my worst exercise (read about it here if ya like) and I am and have been working on improving them and my form over the last few months. The box squat has been by far the best way for me to get perfect form without the smith machine! Do what you have to and make it work for you!
And I was right when I thought that humongo rotary calf pyramid/drop set was going to be horrible in two days,
but it was awesome! Haha!
And here are the step ups! Take it slow at first and get the movement and sequence down then speed up to your liking! It took me a little practice and I still have trouble some days...speaking of which, did I mention there are Bloopers in here too?! Let me know what you think!
*

Fit tip!

: See how I try and keep my upper body 'upright'? You want to make sure not to bend forward in the movement. Try to keep your back straight like in a squat. And the leg does not have to lift high! L
ift enough to feel your glutes
tighten at the top!*
And a little leg day humor is always great! I posted this one on my Instagram a while back!
We had leg day two days ago and I am still having trouble! Even more so today! I am definitely foam rolling my hammies tonight!
What are you guys doing this weekend? Leave a comment and let me know below! I will actually be attending the KC Classic in Kansas City, which is a huge NANBF Bodybuilding show (the one I planned to compete in :( ) so I will have an AwEsOmE recap for ya on Monday! See ya then!
HAPPY FRIDAY!
You know you'll be doing this in a few hours!