So if you saw the Weekend Recap from last night, then you see I decided on a topic! I wasn't sure and still have so many good ones to share, but this was an awesome one and SO easy to make; so naturally I have to let you in on it too!
I made this the week before last (I think...lol) and it was really yummy! And as you will see, it took no time to make! I seriously made it after the gym and had dinner ready (and eaten) before 930 pm! Which is pretty good for me on a gym night!
Ta-Da! Spaghetti Squash ready in a flash!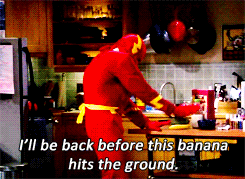 can you tell this is my favorite show? :)
So here is what you'll need!
- A Pyrex pan big enough to fit your squash
(or any microwavable safe dish)
- Sauce for topping or cooking oil of your choice
(if you are eating plain)
- Salt and pepper to taste
- Water (1/2 cup or enough to fill the bottom of your dish)
First, slice your squash in half (long-ways)

and s
crape out the seeds and fibers using a large spoon.
Then place squash halves in your dish, cut side up. Then fill the dish with either 1/2 c water or enough to cover the bottom of the pan (about a half inch up). Just enough to steam the squash.
Then attempt picture #1 and fail because of the microwave door. ;) Just kidding! But seriously.
Cover the pan with plastic wrap and place in microwave for around 7-8 minutes depending on the size of your squash. Mine was fairly small and I ended up putting it in for a few more minutes after this. Around 10 minutes total should do just fine for a smaller squash. But check after this to gauge "doneness."
If you would like it more "done" (as this was the first time trying this for me) then place back in microwave for a few more minutes. Be Careful checking it after heating! The steam under the plastic will be very hot! I may or may not have found this out the hard way.
Then uncover your squash and allow to cool for a few minutes.
Spoon out 'strands' of squash into a bowl, then season with salt and pepper if you like. You can also toss in a bit of olive oil for flavor, top with Parmesan cheese and eat this way as a side dish.
Or, I had healthy and pretty clean spaghetti sauce thawed out and ready to go in the fridge. So I threw it in a pan and heated on the stove for an easy dinner!
I am planning to make it again soon because I would have loved to post the recipe here! But...seeing as how I don't really measure when I cook, I need to be sure of the amounts before posting that recipe haha! Spaghetti sauce will always get better the longer you let it simmer and this recipe I ate here was so good! Now if I can remember what I did...
In the meantime, and probably tonight I have another spaghetti squash to cook and am planning on making pesto! That's fresh basil from the farmer's market in that bag! So stay tuned!
Have you ever cooked spaghetti squash? What's your favorite method and toppings?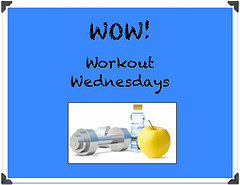 And remember to head on over to the #wowlinkup and check out the awesome posts! Since I just found out we have theme weeks, you guys may get something completely different next week! Until next time! Hope you guys have a wonderful day!